3rd February 2013 – For the very first time, SilverMalaysia.com has collaborated with Freemen to organize Wealth Creation Series – 'Learn How to Safeguard Investments and Safely Invest in Properties and Commodities'. You might have seen this on Groupon as our partners were promoting it there.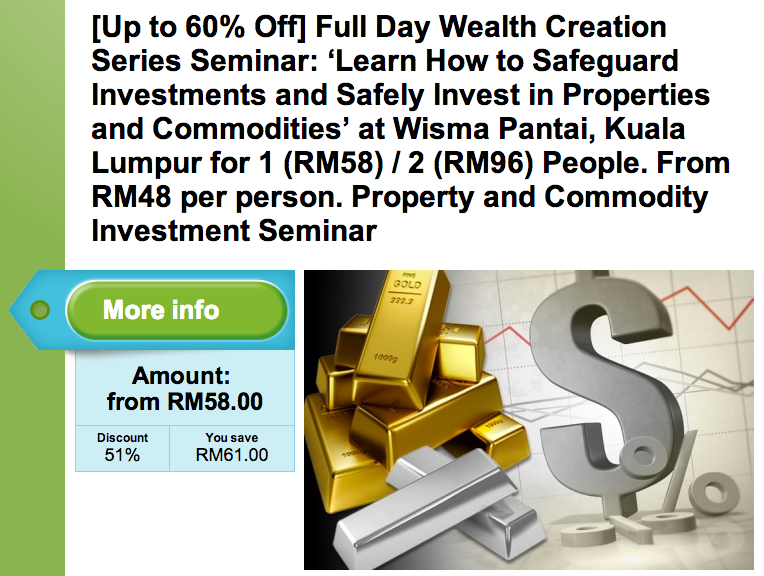 During the Wealth Creation Series, participants had the opportunity to learn:
1) How to safeguard your property investment portfolio
Knowing where property markets are trending in 2013
Designing individual property portfolio sizes
Learning the fundamentals of property investment
Knowing whether to 'Buy to Keep' or 'Buy to Flip' in current market conditions
2) Getting ready for greatest wealth transfer in history
Learn what is flat currency and what is real money, and why these matter
Advantages of investing in gold, silver, and oil
Mistakes to avoid when investing in commodities
How to invest in gold and silver
Learn the best oil investing route
It was surprising to see more than 50 participants during this seminar on a Sunday morning. I'm glad to see more and more Malaysians who are excited to learn and to increase their financial intelligence.
Thank you all who were there during the seminar and to our organizing partner, Freemen! May this be the first of many Wealth Creation Series Seminar!
Related Posts