BOOK
Keep Investment Simple & Stupid
When I started learning how to invest 10 years ago, I was simply a Computer Science student in university. I had a hard time understanding those 'Financial Jargons'!
It was then when I told myself, one day, I'm gonna translate these boring and complex financial languages into simple and fun financial education programs!
In Year 2014, I bring you the KISS Series – Keep Investment Simple & Stupid: Invest Like An Idiot & Trade Like A Pro and The 5 Elements of Successful Investor
Many asked why we (Jonathan Quek and I) named our book "Keep Investment Simple and Stupid (KISS)". The word stupid does not seem appropriate, say some. Well, there is a reason why we named it that way… That's why you need to get the book .

We do not mean that a person has to be stupid to invest. It is supposed to be keeping investments "stupid". In other words, one does not need to be a rocket scientist to be a successful investor or trader. Any lay person can acquire the the knowledge of investing, and of course it has to be from someone who has the experience.

People always think that "if only we can be as smart/brilliant as Warren Buffet or Mark Cook or Kiyosaki, then we can be successful…" Well , that is not the case. Buffet, despite having a Master of Science in Finance, attributed his investment skills to a simple approach and principles taught by Benjamin Graham. Mark Cook (From the book Market Wizards) was a farmer, and Robert Kiyosaki was a marine. They all learned from other people's experience (found their "Rich Dad") and took action.

Knowledge + Action = Power, is what I often hear from my partner and co-author, Jonathan.

Keep it simple… and I re-quote a quote that a close friend of mine, Brent Penfold, a futures trader based in Melbourne, Australia -"Keep it simple, keep it real".

In the book, we gave a real-life study of a chimpanzee beating top fund managers. Another reason to keep investment stupid and another reason why you should get this book.

And I always said, the more you know (I am talking about knowledge, not experience), the more afraid and risk-averse we become. All you need is a simple knowledge on how to trade and invest and this book will give you a kick-start to take action!

KISS from both of us. We'll give you a real kiss if you get the book (Females only, of course, terms and conditions apply) – Benny Lee, Co-author, Keep Investment Simple & Stupid : Invest Like An Idiot & Trade Like A Pro.
About Keep Investment Simple & Stupid
Financial Youth Intelligence has made Financial Education Fun and Easy for thousands of youths in Malaysia. Now, it custom designs its wit and wisdom for today's young aspiring investors and young aspiring traders.
'How to Invest Like an Idiot & Trade Like a Pro?' Seminar had helped youth to stand out, learn to build a portfolio of financial assets they can actually care about, and take advantage of the investor's best friend – time – to watch their financial portfolio multiply for the past one year. (read more)
Testimonials for Keep Investment Simple & Stupid
So proud of my bro who has been my guiding hand in managing my investment portfolios in Gold, Silver and Oil. And now he is reaching out to many more thousands of people, educating them about the votality of the paper money economy and how we can evade the financial crisis through smart investment strategies. Thank you @jonathanquekcw for autographing your new book and for me to have the chance to invest with you. – Michael Teoh, Record Breaking Youth Leader
My buddy @jonathanquekcw gave me his new book "KEEP INVESTMENTS SIMPLE STUPID" , a great guide to those who want to venture into the world of investments and grow their wealth the unconventional way . I haven't finished the book yet ( as I just got it ) , however , so far it has been a great read . Highly Recommended. – David Lai, the only Mentalist in Malaysia to receive the prestigious Merlin Award in 2012
Why Gold? Why Silver? Why Now?
为何黄金?为何白银?为何现在?
Rahsia Pelaburan Emas dan Perak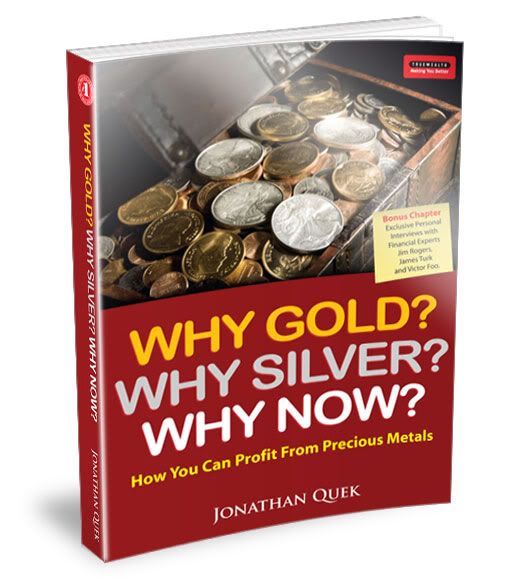 The company you so blindly pledged your loyalty to retrenched you in the crisis. The fixed deposits and funky investments that promised you security made you a slave. The stacks of money in your pockets cannot buy you children a bottle of milk.
You're in the exciting edge of a new economy with new wealth creation rules. And you still stubbornly held on to your grandfather's theories!
Now, Why Gold? Why Silver? Why Now?  with Jonathan Quek taking the driver's seat, takes you to a world previously hidden from the public and popular media. As you traverse the dark alleys of our financial past, present and future, you might develop disdain for the corrupted, embarrassment for your ignorance and find new courage to relive your life – the rich of life that you were told resides only in fairy tales !
Update! Why Gold Why Silver Why Now is now available in Chinese! Click here for more info
Update! Why Gold Why Silver Why Now is now available in Bahasa Malaysia! Click here for more info

Testimonials for 'Why Gold? Why Silver? Why Now?'
"Jonathan challenges us with this less conventional form of investment which has become very relevant in today's volatile and uncertain market. Some of his arguments can be controversial but nonetheless enlightening and thought provoking." – Howard Khoo, Group Managing Director (1989 – 2011) of Hing Yiap Group Berhad (Listed on Bursa Malaysia Stock Exchange)
"Jonathan's vicarious efforts in educating the public are certainly commendable. The transformation of complex ideas into simple layman terms as to help anyone from any walk of life understand the ideologies that drive Gold and Silver, marks the true works of an educationist." – Ashveen Chakravarthy Sekaran, Director of Syabs Group of Companies
"Why Gold? Why Silver? Why Now? unfolds as an exceptional guide for those interested in precious metals and the opportunity it presents. Jonathan masterfully explains why it is important for us to invest in gold and silver now and has clearly shown us the way forward in his insightful and compelling first book, Why Gold? Why Silver? Why Now?, a must ready for those interested in these precious metals." – Gerald Fernandez, Senior Manager (Business Development) of CPA Australia