New Straits Times – Interview The Experts
It was such a privilege to be featured in 'Interview the Experts' section of New Straits Times on 16th April 2011.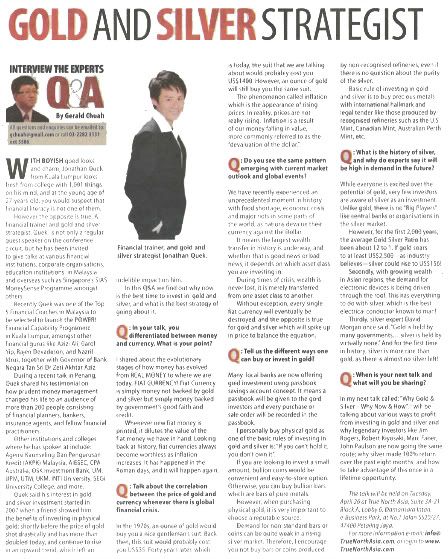 Newspaper transcript below: Gold & Silver Strategist
With boyish good looks and charm, Jonathan Quek from Kuala Lumpur looks fresh from college with 1,001 things on his mind; and at the young age of 27-years-old, you would suspect that financial literacy is not one of them.
However the opposite is true. A financial trainer and gold and silver strategist, Quek is not only a regular guest speaker on the conference circuit, but he has been invited to give talks at various financial institutions, corporate organisations, education institutions in Malaysia and overseas such as Singapore's SIAS MoneySense Programme amongst others.
Recently Quek was one of the Top 5 Financial Coaches in Malaysia to be selected to launch the POWER! Financial Capability Programme in Kuala Lumpur, amongst other financial gurus like Azizi Ali, Carol Yip, Rajen Devadason, and Nazril Idrus, together with Governor of Bank Negara Tan Sri Dr Zeti Akhtar Aziz.
During a recent talk in Penang, Quek shared his testimonial on how prudent money management changed his life to an audience of more than 200 people consisting of financial planners, bankers, insurance agents, and fellow financial practitioners.
Other institutions and colleges where he has spoken at include: Agensi Kaunseling Dan Pengurusan Kredit (AKPK) Malaysia, AIESEC, CPA Australia, OSK Investment Bank, UM, UPM, UTM, UKM, INTI University, SEGi University Colelge, and more.
Quek said his interest in gold and silver investment started in 2007 when a friend showed him the benefits of investing in physical gold; shortly before the price of gold shot drastically and has more than doubled today, and continue to rise in an upward trend, which left an indelible impact on him.
In this Q&A we find out why now is the best time to invest in gold and silver, and what is the best strategy of going about it.
Q: In your talk, you differentiated between money and currency. What is your point?
I shared about the evolutionary stages of how money has evolved from REAL MONEY to where we are today, FIAT CURRENCY! Fiat Currency is simply money not backed by gold and silver but simply money backed by government's good faith and credit.
Whenever new fiat money is printed, it dilutes the value of the fiat money we have in hand. Looking back at history, fiat currencies always become worthless as inflation increases. It has happened in the Roman days, and it will happen again.
Q: Talk about the correlation between the price of gold and currency whenever there is global financial crisis.
In the 1970s, an ounce of gold would buy you a nice gentleman's suit. Back then, this suit would probably cost you US$35. Forty years later, which is today, the suit that we are talking about would probably cost you US$1400. However, an ounce of gold will still buy you the same suit.
The phenomenon called inflation which is the appearance of rising prices. In reality, prices are not really rising. Inflation is a result of our money falling in value, more commonly referred to as the "devaluation of the dollar".
Q: Do you see the same pattern emerging with current market outlook and global events?
We have recently experienced an unprecedented moment in history with food shortage, economic crisis and major riots in some parts of the world, as nations devalue their currency against the Dollar.
It means the largest wealth transfer in history is underway, and whether that is good news or bad news, it depends on which asset class you are investing in.
During times of crisis, wealth is never lost, it is merely transferred from one asset class to another.
Without exception, every single fiat currency will eventually be destroyed, and the opposite is true for gold and silver which will spike up in price to balance the equation.
Q: Tell us the different ways one can buy or invest in gold?
Many local banks are now offering gold investment using passbook savings account concept. It means a passbook will be given to the gold investors and every purchase or sale order will be recorded in the passbook.
I personally buy physical gold as one of the basic rules of investing in gold and silver is: "If you can't hold it, you don't own it".
If you are looking to invest a small amount, bullion coins would be convenient and easy-to-store option. Otherwise, you can buy bullion bars which are bars of pure metals.
However, when purchasing physical gold, it is very important to choose a reputable source.
Demand for non-standard bars or coins can be quite weak in a rising silver market. Therefore, I encourage you not to buy bars or coins produced by non-recognized refineries, even if there is no question about the purity of the silver.
Basic rule of investing in gold and silver is to buy precious metals with international hallmark and legal tender like those produced by recognized refineries such as the U.S. Mint, Canadian Mint, Australian Perth Mint, etc.
Q: What is the history of silver, and why do experts say it will be high in demand in the future?
While everyone is excited over the potential of gold, very few investors are aware of silver as an investment. Unlike gold, there is no "Big Players" like central banks or organizations in the silver market.
However, for the first 2,000 years, the average Gold Silver Ratio has been about 12 to 1. If gold soars to at least US$2,500 – as industry believes – silver could rise to US$156!
Secondly, with growing wealth in Asian regions, the demand for electronic devices is being driven through the roof. This has everything to do with silver, which is the best electrical conductor known to man!
Thirdly, silver expert David Morgan once said, "Gold is held by many governments… Silver is held by virtually none." And for the first time in history, silver is more rare than gold, as there is almost no silver left!
Q: When is your next talk and what will you be sharing?
In my next talk called "Why Gold & Silver – Why Now & How?", I'll be talking about various ways to profit from investing in gold and silver and why legendary investors like Jim Rogers, Robert Kiyosaki, Marc Faber, John Paulson are now going the same route; why silver made 100% return over the past eight months, and how to take advantage of this once in a lifetime opportunity.
For more information about the seminar, please email: info@TrueNorthAsia.com